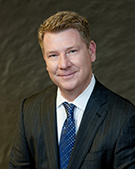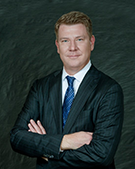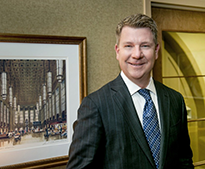 Matthew A. Kelly, III is a commercial lawyer and litigator.  He concentrates his practice in intellectual property law, with a focus on commercial agreements, licensing, complex commercial litigation, data privacy and security, and providing advice to clients about how best to protect their intellectual property.  He is a registered patent attorney with the United States Patent and Trademark Office, and is also licensed in New York, Pennsylvania and New Jersey.
He provides contract and license negotiation in a broad range of business areas, including technology, fashion, media, pharmaceuticals, manufacturing and software. Matt has particular experience with commercial transactions, patent, trademark and software license agreements, manufacturing agreements and professional services agreements. His clients range from Fortune 500 companies to film and television studios, inventors, manufacturers, artists, architects, writers, musicians, designers, entrepreneurs and medium sized businesses.
Matt's experience in licensing and infringement analysis includes evaluating the strengths and weaknesses of infringement allegations and negotiating efficient business solutions to complex problems.  He has represented corporations, municipalities, nonprofits, entrepreneurs and individuals in a variety of commercial actions, and has negotiated and drafted contracts, licenses and numerous other agreements including software development agreements, procurement agreements, product licenses, service agreements, confidentiality agreements and a full range of intellectual property agreements.  In addition, he helps clients secure rights to the intellectual property and assists them in evaluating patent, trademark, copyright, trade secret and other ways to protect valuable property.
With respect to patent, trademark and copyright infringement actions, Matt is an accomplished trial lawyer with a full range of litigation experience, from the initial analysis of infringement, through pleadings and depositions, discovery, settlement negotiations or trial, including Markman hearings and appeals.  His appellate experience includes arguments before the U.S. Court of Appeals for the Third and Federal Circuits as well as presenting arguments to the U.S. Supreme Court.
Recent Matters:
Successfully argued before the U.S. Court of Appeals for the Federal Circuit with respect to patented telephone technologies. Briefing arguments were made to the U.S. Supreme Court on appeal
Successfully negotiated a settlement between United Kingdom fashion retailer and a large United States fashion design brand in the Southern District of New York in trademark infringement action
Currently engaged in patent litigation in the District Court for the District of New Jersey involving patented lighting technologies
Negotiated a multi-contract, national data privacy and security program for a national automotive society
Represented a global pharmaceutical manufacturer and affiliated service subsidiaries in numerous contract negotiations for professional and commercial services
Negotiated and drafted numerous licenses and commercial agreements, including with respect to entertainment contracts, fashion brand licensing, television licensing, music and digital licensing, royalty agreements and procurement agreements
Negotiated technology, software and design agreements with respect to the overhaul of NBC Universal's Rockefeller Center multi-media space
Represented national hotel franchisee in trademark litigation against an international hotel chain in New Jersey federal courts
Counseled a multi-national pharmaceutical company with respect to patent infringement actions, contract negotiations, procurement and trademark licensing
Represented authors, composers and playwrights in media contract and development negotiations, including adaptations of original works and royalty agreements
Achieved a favorable settlement and negotiated a profitable license in a federal copyright infringement suit involving the usage of photographs and video footage in television documentaries
Successfully defended international electronics manufacturer accused of trademark and trade dress infringement with respect to portable scanning technologies
Counseled the University of Southern California in the development of online degree programs and platforms, including with respect to content, copyright and other intellectual property issues
Negotiated advertising, promotional and license agreements for a major cable television studio with respect to advertising and original television series and documentaries
Protected the rights of a successful entrepreneur and artist in a dispute with a major national baseball league on issues of copyright, trademark and copyrightability
Represented a medical software corporation in federal patent infringement actions brought against it by rival corporations and negotiated a profitable license with respect to the settlement of same
Successfully halted the sale of a nationally distributed novel accused of trademark and copyright infringement
Prepared the prosecution and defense of cases and allegations involving misappropriation and infringement of architectural designs, automobile designs, gourmet foods, product catalogs and other products
Advised numerous clients and inventors with respect to prosecution, contract and licensing of patents, trademarks and copyrighted materials